Mohegan Sun Arena and the Wolf Den featuring multiple holiday concerts throughout November and December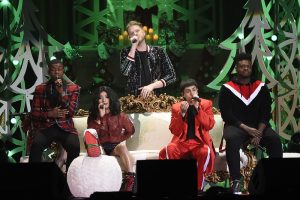 For those who love to blast holiday music as soon as dinner ends on Thanksgiving up until the clock strikes Midnight on New Year's Eve, live music at Mohegan Sun is the perfect way to celebrate the season.
There's something magical about taking in a holiday show with family and friends during the most wonderful time of year. Mohegan Sun Arena is hosting six holiday shows throughout November and December. Tickets are available via ticketmaster.com and at the Mohegan Sun Box Office, subject to availability.
Upcoming holiday shows at Mohegan Sun Arena:
Straight No Chaser – Straight No Chaser ushered in the modern A Cappella craze with their breakthrough version of "The 12 Days of Christmas" 12 years ago. The group's return to in-person touring features tracks from its latest album, Social Christmasing, as well as a mix of brand-new arrangements and fan favorites. Straight No Chaser opens the holiday season at 8:00pm on Friday, November 26th at Mohegan Sun Arena.
Trans-Siberian Orchestra – Join the famous Progressive Rock band as they celebrate the 25th anniversary of their iconic album Christmas Eve & Other Stories. TSO takes the stage for two shows at 3:00pm and 8:00pm on Sunday, November 28th.
Pentatonix: The Evergreen Christmas Tour – The multi-platinum and Grammy Award winning A Cappella group is bringing the holiday spirit to Mohegan Sun Arena as they celebrate the quintet's sixth holiday themed album, Evergreen. The Marine Corps League will be on-site outside Mohegan Sun Arena prior to the concert collecting new, unwrapped toys or monetary donations for the Toys for Tots organization. Get into the spirit early with Pentatonix at 8:00pm on Saturday, December 4th.
A Marie Osmond Symphonic Christmas with special guests David Osmond and Daniel Emmet – Marie Osmond has spent five iconic decades in the entertainment business performing as a successful singer, television performer and talk show host, dancer, actor, author, entrepreneur and public speaker. She comes to Mohegan Sun for one night at 8:00pm on Wednesday, December 8th, to preview her upcoming symphonic album, Unexpected, which covers a multitude of genres like Opera, Broadway, and timeless classics, and drops just two days later on December 10th.
Goose: Goosemas 2021 –Connecticut's own Goose, based in Norwalk, CT, is the culmination of a rich history between friends of differing ages and experiences from the same small town in Connecticut, drawn together through a deep love of music and storytelling. Goosemas is the band's eighth annual edition of its holiday tradition, which started as a basement party in a Norwalk music studio. Now, the jam band is set to headline its largest show to date. Don't miss Goose's first arena performance at 8:00pm on Saturday, December 18th.
The Beach Boys: Holiday Harmonies (New Year's Eve) – Close out the year with Mike Love and The Beach Boys as they celebrate the season with a mix of holiday classics from the band's Christmas album, as well as songs from The Beach Boys' co-founder and lead singer Mike Love's holiday album, Reason for the Season. Join the iconic band for a show to remember at 8:00pm on December 31st at Mohegan Sun Arena.
But the holiday magic doesn't stop there! There are several opportunities to enjoy a Christmas show for free at the Wolf Den, located in the center of Casino of the Earth:
Guests may line up no sooner than three hours before a show at the Wolf Den. Seating is on a first-come, first-served basis, however the open venue does allow guests in Casino of the Earth to enjoy the live music while dining or playing games. Guests must be 21 years of age or older to enter the Wolf Den.
Mohegan Sun Arena is now ranked consistently among the top venues in the world according to Billboard Magazine, Pollstar and VenuesNow.  Mohegan Sun Arena is consistently ranked among the top three "Arenas in the World for its Size" and top 15 in the "World for All Size Venues." The award – winning venue is the "#1 Casino Venue in the World," "#1 Social Media Venue in the World" and a seven – time national award – winner for "Arena of the Year."  For more information on concerts and other great events, visit Mohegan Sun. For information on this week's schedule, call the Entertainment and Special Events hotline at 1.888.226.7711.
# # #