The global music icon will perform at Mohegan Sun Arena on Friday, September 2nd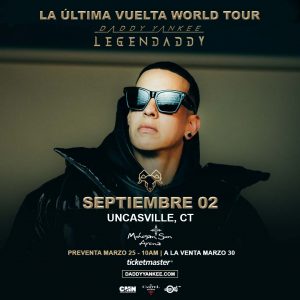 Global music icon Daddy Yankee astonished the world when he announced the dates of his farewell tour La Última Vuelta (The Last Round) and his last album Legendaddy. Daddy Yankee will visit Mohegan Sun Arena as part of his final tour at 8:00pm on Friday, September 2nd.
Tickets are $151, $111, $101, $81, and $61 and go on sale Wednesday, March 30th at 10:00am via ticketmaster.com. Tickets will also be available at the Mohegan Sun Box Office beginning Thursday, March 31st, subject to availability. Pre-sale tickets will be available starting on Friday, March 25th.
La Última Vuelta World Tour will kick off in Portland, Oregon, in August. The five-month trek includes some of the rapper-songwriter's biggest headline shows in North America and Latin America to date.
"Today I'm announcing my retirement from music by giving you my best production and my best concert tour. I will say goodbye celebrating these 32 years of experience with this new collector's item, the album Legendaddy. I'm going to give you all the styles that defined me in one single album," Daddy Yankee said.
Legendaddy is Daddy Yankee's first album in 10 years.
About Daddy Yankee
Global music icon Daddy Yankee is known as the "King of Reggaeton" by music critics and fans alike. He is often cited as an influence by other Latin urban performers. In 2004, he released his international hit single "Gasolina," which is credited with introducing Reggaeton to audiences worldwide, and making the music genre a global phenomenon. Since then, he has sold around 30 million records, making him one of the best-selling Latin music artists. Daddy Yankee's album Barrio Fino made history when it became the top-selling Latin Music Album of the Decade 2000–2009. In 2017, Daddy Yankee, in collaboration with Latin pop singer Luis Fonsi, released the hit single "Despacito." It became the first Spanish-language song to hit number one on the Billboard Hot 100 since 1996. The single gained global success. The video for "Despacito" on YouTube became the most watched video on the platform and top-selling single of the decade 2010-2019. Its success led Daddy Yankee to become the most listened to artist worldwide on Spotify in June 2017, the first Latin artist to do so. In 2019, his single "Con Calma'' featuring Snow became the Top Latin Song of 2019 and a Top 10 Most-Listened song globally. It became the No. 1 Most Watched Video on YouTube generating more than 2.4 billion views. Daddy Yankee has won 110 awards and more than 300 nominations. He has been named one of the "Most Influential Hispanics" by both Time Magazine and CNN Network. In December, Daddy Yankee kicked off the holiday season giving a new experience to his fans worldwide by releasing "DY2K20," a digital version of his unforgettable 12 sold-out shows "Con Calma Pal' Choli." In addition, in mid-December he fulfilled one of his biggest dreams which was to record with Marc Anthony his favorite Christmas song "De Vuelta Pa' La Vuelta." With 300 million views, the song charted No. 1 on Billboard's Tropical Airplay chart and debuted No. 5 on the Hot Latin Songs chart. Daddy Yankee also released "Problema," as his first song of 2021 which has accumulated more than 1 billion streams since its initial release. He performed the song on Jimmy Kimmel Live! and the next day on Good Morning America. Most recently, he was awarded "Songwriter of The Year" for the third time at the 2021 ASCAP Latin Music Awards and has bestowed with the Billboard Hall of Fame Award becoming the first urban Latino artist to enter. In March, he announced his last tour La Última Vuelta and his last album Legendaddy.
About CMN
CMN is the leader in Live Latin entertainment. As a multicultural agency, our common goal is to create and build unique experiences between fans, artists and brands. Henry Cárdenas, entrepreneur, philanthropist and founder of CMN, is a pioneer in bringing Latin entertainment and live sport events to the United States. The Chicago-based company with offices in Miami operates through professionals constantly creating cutting-edge experiences and producing the best events in the country.  To learn more about CMN and its roster of artists, visit www.cmnevents.com or follow us at @cmnevents.
Mohegan Sun Arena is now ranked consistently among the top venues in the world according to Billboard Magazine, Pollstar and Venues Now. Mohegan Sun Arena is consistently ranked among the top three "Arenas in the World for its Size" and top 15 in the "World for All Size Venues." The award – winning venue is the "#1 Casino Venue in the World," "#1 Social Media Venue in the World" and a seven – time national award – winner for "Arena of the Year."  For more information on concerts and other great events, visit Mohegan Sun. For information on this week's schedule, call the Entertainment and Special Events hotline at 1.888.226.7711.
# # #