Tickets go on sale on Friday, October 28th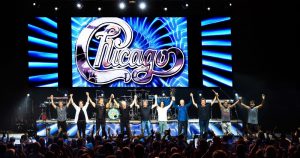 Hailed as one of the "most important bands in music since the dawn of the Rock and Roll era," Chicago – the legendary Rock and Roll band with horns – returns to Mohegan Sun Arena at 7:30pm on Friday, April 14th.
Tickets are $79.50, $49.50, and $39.50, and go on sale Friday, October 28th at 10:00am via ticketmaster.com. Tickets will also be available at the Mohegan Sun Box Office beginning Saturday, October 29th, subject to availability.
The tour comes on the heels of Rock and Roll Hall of Fame band Chicago's 38th studio album, Born For This Moment, which was released in July. Featuring the signature sounds Chicago fans have come to love, Born For This Moment captures the true heart of this legendary band. Over the entire course of 14 vibrant new songs, Born For This Moment encapsulates the unique blend of award-winning and personal songwriting, multilayered harmonic vocalizations, and world-class arrangements that have been electrifying audiences across the globe for decades.
In September, Gravitas Ventures released Chicago's documentary The Last Band on Stage, directed by Peter Curtis Pardini and narrated by the band's longtime friend and actor Joe Mantegna. The Last Band on Stage tells the incredible story of how the 55-year-old band survived a pandemic that stopped the world in its tracks.
"Chicago has faced many obstacles in lasting 55 years, but the pandemic was possibly their greatest challenge. I'm excited for people to see the story of how they got back to the stage to continue performing," Pardini said.
Chicago's lifetime achievements include two Grammy Awards, two American Music Awards, Founding Artists of the John F. Kennedy Center for the Performing Arts, a star on the Hollywood Walk of Fame, a Chicago street dedicated in their honor, and keys to and proclamations from an impressive list of U.S. cities. Record sales top the 100 million mark, and include 21 Top 10 singles, five consecutive No. 1 albums, 11 No. 1 singles, and five Gold singles. An incredible 25 of their 38 albums have been certified Platinum, and the band has a total of 48 Gold and Platinum awards.
Chicago have toured every year since the beginning; they've never missed a year. The original three band members are Robert Lamm on keyboards and vocals, Lee Loughnane on trumpet and vocals and James Pankow on trombone. The band lineup also includes Wally Reyes, Jr. on drums, Tony Obrohta on guitar, Loren Gold on keyboards and vocals, Ray Herrmann on sax and flute, Neil Donell on vocals, Eric Baines on bass, and Ramon "Ray" Yslas on percussion.
From the signature sound of the Chicago horns, their iconic vocalists, and a few dozen of ever-classic songs, this band's concerts are celebrations. The year 2023 will mark the band's 56th consecutive year of touring.
About Mohegan Sun Arena
Mohegan Sun Arena is one of the busiest Arenas in the United States and is ranked consistently among the top venues in the world according to Billboard Magazine, Pollstar and VenuesNow. Mohegan Sun Arena finished 2021 with its first "#1 Indoor Arena" ranking for its capacity in the world according to Pollstar and VenuesNow, ranked among the top 10 venues in the United States regardless of size based on ticket sales, and was named "2021 Innovator of the Year" by Celebrity Access for its ViacomCBS residency.  In recent years, the award-winning venue has also been the "#1 Casino Venue in the World," "#1 Social Media Venue in the World" and a seven-time national award winner for "Casino of the Year – Arena" by the Academy of Country Music. For more information on concerts and other great events, visit MoheganSun.com. For information on this week's schedule, call the Entertainment and Special Events hotline at 1.888.226.7711.
# # #