Tickets on sale February 17th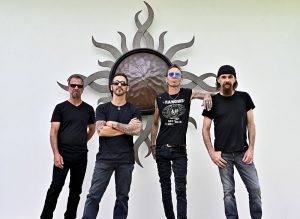 Grammy-nominated Boston bastion of Hard Rock, Godsmack returns to Mohegan Sun Arena at 8:00pm on Sunday, May 28th.
Tickets are $129.50, $89.50, $69.50, and $49.50, and go on sale Friday, February 17th at 10:00am via ticketmaster.com. Tickets will also be available at the Mohegan Sun Box Office beginning Saturday, February 18th, subject to availability.
With more than 20 years of chart-topping success, the Boston Rock band has cemented themselves as 21st century Hard Rock titans. To date, they've accomplished a staggering 11 No. 1 singles at mainstream Rock radio including "Bulletproof," "Unforgettable," "When Legends Rise," and "Under Your Scars," all from the band's most recent album. Additionally, they've enjoyed 20 Top 10 hits at the format – the most of any act since February 1999 – as well as four Grammy nominations and were named Billboard Music Award's "Rock Artist of the Year" in 2001. Selling more than 20 million records worldwide, the band has released seven studio albums:  Godsmack, Awake, Faceless, IV, The Oracle, 1000hp, and When Legends Rise.
The Massachusetts-bred quartet will take a victory lap with their eighth studio album Lighting Up the Sky, which will be released on February 24th, dropping one more classic album as they ascend into the celebratory position of their career. The powerful storytelling of Lighting Up the Sky covers boy-meets-girl obstacles in relationships, the polarized political climate and state of the world, betrayal, connection, rebounds, and more.
Godsmack is Sully Erna (vocals, guitar), Tony Rombola (guitar), Robbie Merrill (bass), and Shannon Larkin (drums).
About Mohegan Sun Arena
Mohegan Sun Arena finished 2021 with its first "#1 Indoor Arena" ranking for its capacity in the world according to Pollstar and VenuesNow, ranked among the top 10 venues in the U.S. regardless of size based on ticket sales, and was named "2021 Innovator of the Year" by Celebrity Access for its ViacomCBS residency.  In recent years, the "Most Beloved Venue in America" has also been the "#1 Casino Venue in the World," "#1 Social Media Venue in the World" and a seven – time national award – winner for "Arena of the Year."  For more information on concerts and other great events, visit Mohegan Sun. For information on this week's schedule, call the Entertainment and Special Events hotline at 1.888.226.7711.
# # #