Guests are invited to experience a free, horror-themed escape room from October 21st – November 7th
WHAT: To celebrate the launch of MoheganSunCasino.com, Mohegan Sun is hosting a free, horror-themed escape room experience called Sunshine Video.
WHEN/WHERE: Thursday, October 21st through Sunday, November 7th
The Shops at Mohegan Sun
IN DETAIL: Sunshine Video is a horror-themed escape room created for the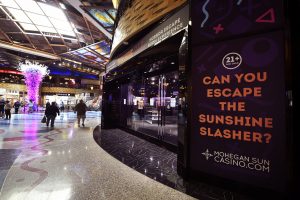 brave and bold. Starting Thursday, October 21st, guests are invited to go back in time to 1984 and find a way to successfully escape the Sunshine Slasher. Sunshine Video will ...