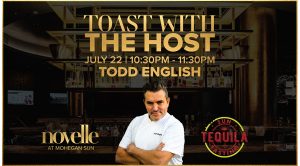 WHAT: Guests are invited to raise their glasses to an unforgettable night of cocktails, music and star-studded excitement! novelle is set to host an exclusive Toast with the Host event featuring the renowned celebrity chef, Todd English.
WHEN/WHERE: Saturday, July 22nd
10:30pm – 11:30pm
novelle
IN DETAIL: At this special Sun Tequila Tasting edition of Toast with the Host, guests will have the chance to indulge in the electrifying atmosphere of novelle, ...