Connecticut's Premier Resort Destination Introduces the Earth Expo & Convention Center at Mohegan Sun and Prepares for the Barrett-Jackson Northeast Auction Coming up in June
Uncasville, CT. (May 30, 2018) – Mohegan Sun celebrated today the grand opening of the Earth Expo & Convention Center, the property's $80 million-dollar expansion with a ribbon cutting ceremony held on Wednesday, May 30th. The state-of-the-art Earth Expo & Convention Center at Mohegan Sun is already making a name for itself as it makes Mohegan Sun home to one of the largest and most attractive exposition sites in the Northeast, with over 275,000 square feet of flexible meeting and event space. It is located next to the property's Winter Parking Garage, adjacent to the Earth Tower guest rooms. The first major event held in Mohegan Sun's Expo & Convention Center will be the third annual Barrett-Jackson Northeast Auction of collector cars from June 20th-23rd, 2018.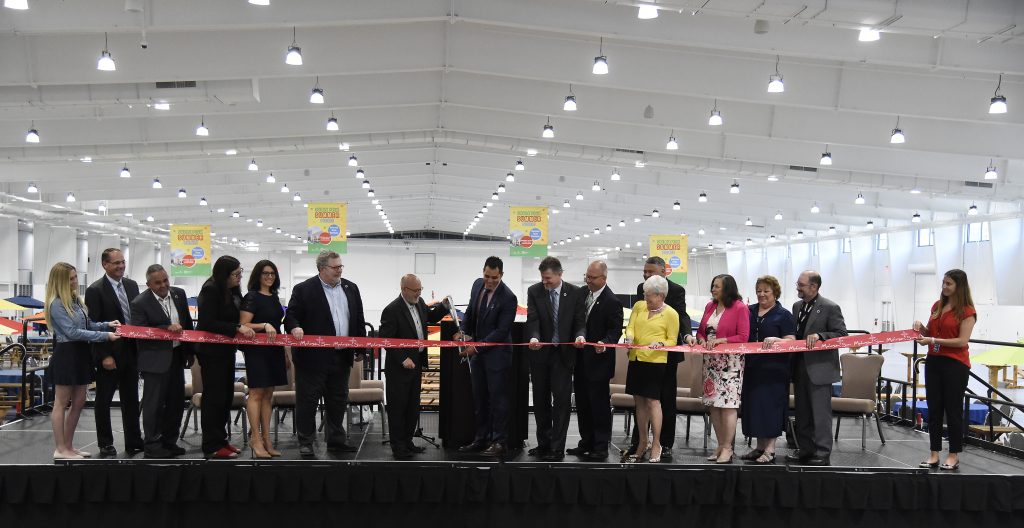 "We are honored to have you all with us and are excited to be here today to celebrate the grand opening of the new Earth Expo & Convention Center. While we have hosted many openings in our 22-year history, today's is equally, if not more important, as it symbolizes our commitment and dedication to our flagship property, our employees, Southeastern Connecticut and the state as a whole. –Mohegan Tribal Chairman, Kevin Brown "Red Eagle."
Featuring 15 meeting rooms including an Executive Boardroom and world-class service, technology and amenities, the Earth Expo & Convention Center at Mohegan Sun provides the perfect venue for corporate and association trade shows. The full expansion accounts for 250,000 total square-feet, which includes the 125,000 square foot column free Earth Expo Center and 20,000 square foot Earth Ballroom, both of which feature ample pre-function space right outside their doors.
Starting with Barrett-Jackson on June 20th-23rd, 2018, the Earth Expo & Convention Center has established future long-term partnerships with United Natural Foods Inc. (UNFI), the National Association of Postal Supervisors and the Connecticut Marine Trades Association, with plans to expand to more consumer geared shows and niche industry events.
Now boasting as the Northeast's premiere destination for exposition and meeting facilities, the Earth Expo & Convention Center at Mohegan Sun offers a convenient location between New York City and Boston, with efficient, hassle-free accessibility from anywhere within New England and surrounding metropolitan cities. Easily reachable by toll-free interstate driving, the Earth Expo & Convention Center is just over an hour from both T.F. Green and Bradley airports with transportation by Mohegan Sun's shuttle service and only 20 minutes from the New London Amtrak station by way of car service, taxi or Uber.
"The Earth Expo & Convention Center at Mohegan Sun delivers our promise to provide guests with exceptional service, immersive entertainment and flawless event execution from start to finish," added Ray Pineault, President & General Manager of Mohegan Sun. "From gaming and concerts to corporate meetings and massive trade shows, our priority is to enhance guest experiences and add value with every visit, creating a lifetime of memories while solidifying customer retention for years to come."
Earth Expo at Mohegan Sun is a column-free structure offering flexible programming within a long stretching space that also features natural light. The floor-to-ceiling windows and doors lead visitors to an outdoor patio which provides added gathering space in warm weather. Interior finishes on the Earth Expo & Convention Center offer a nod to the Mohegan Tribe's cultural history, with custom carpeting and light fixtures that reflect Native American motifs, the nearby Thames River and the color palettes of the Earth and Sky Towers. In addition to being nearby Mohegan Sun's hotel towers, Earth Expo & Convention Center is a short distance from Mohegan Sun's Sky Convention Center, which is home to the 38,000 square-foot Uncas Ballroom.
Additional highlights of the new Earth Expo & Convention Center at Mohegan Sun include:
20,000 square-foot Ballroom, divisible into two and featuring over 3,000 square feet of pre-function space
Free parking, eight bay loading dock from an open parking field and additional drive in access from two, grade-level drive-in doors
15 meeting rooms total, ranging from 360 square-feet to 675 square feet
A 1,263 square-foot Executive Boardroom with 230 square feet of pre-function space and a private outdoor terrace
3,500 square feet of outdoor space including a large wrap-around terrace
A 5,360 square foot kitchen
State-of-the-art technology with cutting edge audio & visual capabilities, digital and free wi-fi
As part of the opening of the Earth Expo & Convention Center at Mohegan Sun, prospective clients can visit MoheganSun.com/Meetings for more information on the expo and meeting facilities and exceptional resort surroundings. In addition to details on new Earth Expo & Convention Center and the existing Sky Convention Center & Meeting Spaces, the renewed online convention sales website features fact sheets, property videos and floor plans, testimonials and awards, an overview of the resort and convenient travel recommendations.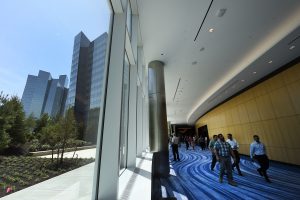 "Our striking new Earth Expo & Convention Center cements Mohegan Sun as New England's premier destination for conventions, meetings and corporate events, and further solidifies ourselves as the leading, most all-encompassing resort in the region," said John Washko, Vice President of Exposition and Convention Sales at Mohegan Sun, "The large size and scope of the new exposition center expands Mohegan Sun's trade show offerings with increased capacity for guests and with that, we look forward to welcoming thousands of guests during the four-day Barrett-Jackson car auction this month."
Experiences Beyond the Earth Expo & Convention Center
For conferences and events of epic proportions, Mohegan Sun is also home to the Sky Convention Center featuring a 38,000 square-foot Uncas Ballroom, 14,000 square feet of pre-function space and 30 flexible and strikingly-designed individual meeting rooms, accommodating up to 5,300 people. The convention space includes an impressive Executive Boardroom, which offers 10-foot-ceilings, drop-down LCD projectors and screens with high-speed Internet access and individual lighting controls – perfect for satisfying the meeting needs on virtually any scale.
In total, Mohegan Sun's meetings & conventions space now encompasses Earth Expo, two ballrooms and 45 meeting & breakout rooms, all accounting for 275,000 square-feet.
In addition to featuring the premier convention destination in the Northeast, Mohegan Sun's commitment to continuously provide new and exciting offerings that exceed guests' expectations has translated into 1,600 hotel rooms in the Sky and Earth Towers, 45 diverse culinary options, more than 35 retail shops, three night clubs, two Mandara Spa locations, the award-winning 10,000-seat Mohegan Sun Arena, a 400-seat Cabaret Theater, the 350-seat Wolf Den music venue, the 260-seat COMIX Comedy Club, a 18-hole championship Mohegan Sun Golf Club, and of course, world-class gaming with three casinos under one roof. To learn more and plan a visit to Mohegan Sun, visit MoheganSun.com or follow the brand on Instagram, Twitter and Facebook.
# # #