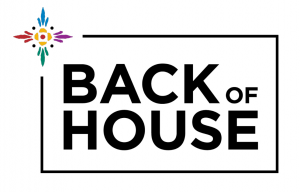 WHAT: Mohegan Sun's award-winning digital TV series "Back of House" returns tonight at 8:00pm with new episodes filmed both before and after the onset of COVID-19.
WHEN/WHERE: Wednesday, October 14th at 8:00pm EST (and airing every Wednesday night through November 18th, with the exception of November 4th) on BackofHouse.tv
IN DETAIL: After receiving top international hospitality awards in 2019, Mohegan Sun launches season four of the hit series, "Back of House" tonight at 8:00pm on BackofHouse.tv. Season four follows the professional lives of 10 Mohegan Sun employees, providing viewers with an in-depth glimpse at the world of resort hospitality and operations. This season is partially filmed pre-pandemic, and goes behind the scenes to uncover the challenges and rewards of hosting New Year's Eve 2020, as well as holiday galas and the building of a towering gingerbread house. After the onset of COVID-19, the series shows the diligent steps and hard work taken by leadership and team members to close and then safely reopen one of the largest integrated entertainment resorts in the United States after its three-month closure due to the pandemic.
Tune-in and WIN
To celebrate the fourth season premiere, backofhouse.tv and Mohegan Sun will host weekly contests following episode airings where winners can visit Mohegan Sun and catch the "Back of House" cast in action. Viewers will be eligible to enter via backofhouse.tv for a chance to win a $100 gift card to Mohegan Sun, as well as a grand-prize giveaway choice between a $250 gift card or an overnight stay at Mohegan Sun. Winners will be drawn on Fridays at 11:00am EST.
Episode 1: A New Beginning
Due to the pandemic, Mohegan Sun must close its doors for the first time ever. Watch as this 24/7, 365 day a year operation shifts gears to help its local community and its own employees, while they simultaneously attempt to understand life during quarantine. Given the greenlight to reopen, Jeff, Mary and Dan lead team members, working relentlessly to figure out how to reopen one of the largest travel destinations in the US. Ensuring the safety of both the guests and staff is paramount. They must find a way.
ABOUT BACK OF HOUSE
"Back of House" swings the doors of hospitality and entertainment wide open. It is a trailblazing all-access pass to the action behind the action at one of the world's largest integrated casino resort destinations, Mohegan Sun. Enjoy following fun, dedicated resort employees as they navigate occasional mishaps in their quests to make each guest's stay a perfect getaway experience. For more information, visit backofhouse.tv.
ABOUT MOHEGAN SUN:
Owned by Mohegan Gaming & Entertainment, Mohegan Sun is one of the largest, most spectacular entertainment, gaming, dining and shopping destinations in the United States.  Situated on 185 acres along the Thames River in scenic southeastern Connecticut, Mohegan Sun is home to two unique casinos, 1,600 deluxe hotel rooms, two world-class spas, a golf course, over 80 shops, restaurants and bars as well as three award-winning entertainment venues including a 10,000-seat Arena. Mohegan Sun is within easy access of New York, Boston, Hartford and Providence and located 15 minutes from the museums, antique shops and waterfront of Mystic Country. More information is available by calling 1.888.226.7711 or visiting mohegansun.com. Connect with us on Facebook, follow us on Twitter and Instagram @mohegansun, view us on YouTube and find us on Snapchat at username MoheganSun.
# # #