Tickets on sale Friday, March 4th
On the heels of their sold out spring 2022 "Dreams in Gold" arena tour, Grammy Award-winning Rock band Greta Van Fleet hit the road once more this fall. Greta Van Fleet with special guests Houndmouth and Robert Finley will take the stage at Mohegan Sun Arena for the first time ever at 7:30pm on Friday, October 7th.
Tickets are $99, $89 and $69 and go on sale Friday, March 4th at Noon via ticketmaster.com. Tickets will also be available at the Mohegan Sun Box Office beginning Saturday, March 5th, subject to availability.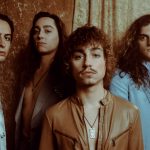 Greta Van Fleet is an American Rock band that formed in 2012 in Frankenmuth, Michigan. It consists of Kiszka brothers; Josh, Jake, and Sam; and Danny Wagner. Their debut single "Highway Tune," topped the Billboard U.S. Mainstream Rock and Active Rock charts in September 2017 for four weeks in a row. Greta Van Fleet's music has been categorized as Hard Rock and Blues Rock and is often compared to Led Zeppelin. Their debut full-length studio album, Anthem of the Peaceful Army, was released in October 2018, and topped the Billboard Rock Album charts in the first week after its release.
In three years, Greta Van Fleet went from touring the grimy Rock bars of Detroit and Saginaw to headlining shows on five continents with audiences triple their hometown's population. The band that once attracted crowds of teens to improvised forest concerts, have now sold more than one million tickets worldwide. From Frankenmuth, Michigan, to a tour bus across America and their first ever flight to Europe, their newest album The Battle at Garden's Gate, released in April 2021, is a reflection of their journey into the present.
So many artists have been positioned as the future that we've forgotten how to recognize the real thing. Expectations may run high, but Greta Van Fleet is indifferent to opinion. The band doesn't have to say a certain thing or act a certain way to convince anyone of their capacity. All they have to do is play.
Mohegan Sun Arena finished 2021 with its first "#1 Indoor Arena" ranking for its capacity in the world according to Pollstar and VenuesNow, ranked among the top 10 venues in the U.S. regardless of size based on ticket sales, and was named "2021 Innovator of the Year" by Celebrity Access for its ViacomCBS residency.  In recent years, the "Most Beloved Venue in America" has also been the "#1 Casino Venue in the World," "#1 Social Media Venue in the World" and a seven – time national award – winner for "Arena of the Year."  For more information on concerts and other great events, visit Mohegan Sun. For information on this week's schedule, call the Entertainment and Special Events hotline at 1.888.226.7711.
# # #