Tickets on sale Friday, November 4th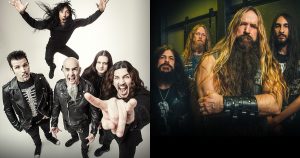 Anthrax & Black Label Society with special guest Exodus will visit Mohegan Sun Arena for one spectacular night of Heavy Metal at 6:30pm on Friday, February 3, 2023.
Tickets are $45, $35, and $25 and go on sale Friday, November 4th at 10:00am through Ticketmaster. Tickets will also be available at the Mohegan Sun Box Office beginning on Saturday, November 5th, subject to availability.
Anthrax is composed of Scott Ian (guitars), Frank Bello (bass), Charlie Benante (drums), Joey Belladonna (vocals) and Jonathan Donias (guitars). Anthrax celebrated its 40th anniversary in July 2021. In the span of 40 years, the band has released 11 studio albums, earned multiple Gold and Platinum certifications, received six Grammy nominations along with a host of other accolades from the media, music industry, and fans.
In 1991, the band helped break down race and genre barriers when they collaborated with Public Enemy on the track "Bring The Noise" and were the first Metal band to have its music heard on Mars when NASA played "Got The Time" to wake up the Mars Rover in 2012. Along with Metallica, Slayer, and Megadeth, Anthrax is a card-carrying member of The Big Four, the four bands that defined the Speed/Thrash/Metal genre.
Everything about Black Label Society begins with the riff. A dedicated disciple of Led Zeppelin, Black Sabbath, and Deep Purple, Zakk Wylde looks to the massive guitar hooks in classics like "Whole Lotta Love," "Into the Void," and "Smoke On the Water" as guiding lights. "The main ingredient in any Black Label soup is the riff," says the larger-than-life front man.
Black Label Society builds their music on this simple truth – truth as self-evident on Back in Black as on the dozen songs comprising Doom Crew Inc. – the 11th album from the dependable stalwarts. Doom Crew Inc. is both a tribute to the band's "first to bleed, last to leave" road crew and a salute to the legion whose support, stretching back to 1998, rivals that of the KISS Army. The Black Label Society biker-style battle vest "kutte" is as ubiquitous at Hard Rock and Metal shows as a black t-shirt.
A charismatic Heavy Metal marauder recognized worldwide as a living legend, Wylde rose to prominence when Ozzy Osbourne chose him as his loyal axe-man, based on a cassette he mailed in as a teen. Guitar World put him on their cover more than a dozen times in recognition of his work on multiplatinum albums by the icon he calls "the Boss" and the two decades of music made by BLS.
Doom Crew Inc. sees Zakk trading solos and twin-guitar parts with Dario Lorina, backed by the rumble of longtime bassist John "J.D." DeServio and powerhouse drummer Jeff Fabb. Like every BLS album since 2010, the band tracked Doom Crew Inc. at Zakk's home studio, aka the Black Vatican.
The beautiful simplicity of BLS bangers owe everything to the lessons Wylde first heard on Black Sabbath's We Sold Our Soul for Rock 'n' Roll. "Less is more with everything," he says. "Except the guitar solos."
About Mohegan Sun Arena
Mohegan Sun Arena is one of the busiest Arenas in the United States and is ranked consistently among the top venues in the world according to Billboard Magazine, Pollstar and VenuesNow. Mohegan Sun Arena finished 2021 with its first "#1 Indoor Arena" ranking for its capacity in the world according to Pollstar and VenuesNow, ranked among the top 10 venues in the United States regardless of size based on ticket sales, and was named "2021 Innovator of the Year" by Celebrity Access for its ViacomCBS residency.  In recent years, the award-winning venue has also been the "#1 Casino Venue in the World," "#1 Social Media Venue in the World" and a seven-time national award winner for "Casino of the Year – Arena" by the Academy of Country Music. For more information on concerts and other great events, visit MoheganSun.com. For information on this week's schedule, call the Entertainment and Special Events hotline at 1.888.226.7711.
# # #