The three-day competition takes place at Mohegan Sun December 12th – December 15th
The Miss America Organization, the nation's oldest women's competition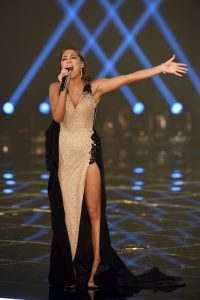 and a leading provider of scholarships for women in the United States, is returning to Mohegan Sun. The 51 outstanding young women vying for the job of Miss America will begin their competition week on Monday, December 12th with the first evening of preliminary competition, followed by round two of preliminary competition on Tuesday, December 13th.  The next Miss America will be crowned on Thursday, December 15th with a pre-show at 7:00pm and the competition kicking off at 8:00pm. The full competition will take place inside Mohegan Sun's Earth Expo & Convention Center.
Tickets for the preliminaries are $150, $100 and $50. Tickets to the finals are $200, $150 and $85. Three-night packages are also available for $450, $325 and $165. The three-night package grants access to both nights of the preliminaries and the finals. All tickets and packages are on sale now via Ticketmaster and the Mohegan Sun Box Office, subject to availability.
"We're delighted to be returning to our home at Mohegan Sun as we prepare to crown our next Miss America," said Shantel Krebs, Miss America Organization Board Chair. "For over 100 years, we have been committed to empowering the advocates and leaders of tomorrow. Our program provides young women the opportunity to earn scholarships, grow their networks, learn valuable life and career skills, and make a difference in their communities."
Reinforcing the motto of "top scholarship provider for women," the organization is proud to announce it will award over $500,000 in scholarships during its Miss America competition week December 12th – December 15th. The Miss America Organization awards more than $5 million in cash scholarships each year and millions more in-kind per year to the thousands of participants through national, state and local programs. In December 2021 alone, the total cash bestowed to the 51 candidates at the Miss America competition reached a historic high, totaling $435,500.
"With nearly two-thirds of student loan debt in the United States carried by women, the Miss America Organization is proud to continue its long-standing tradition of providing scholarships for young women to further their education." continued Krebs.
For more information on the Miss America Organization, visit missamerica.org. For more information on candidate registration, visit missamerica.org/signup.
ABOUT THE MISS AMERICA ORGANIZATION: Since its founding in 1921, The Miss America Organization continues to be one of the most recognizable household names in America empowering young women through education, professional development, advocacy, and community service. The Organization awards more than five million dollars in cash scholarships and millions more in-kind per year through its Teen and College divisions at the local, state, and national levels. The Organization is made up of over 1,200 licensed local programs under its 50 state organizations and the District of Columbia.
 Follow "The Miss America Organization" on social media:
Facebook: @missamerica
Twitter: @MissAmericaOrg
Instagram: @missamerica
Hashtag: #MissAmerica
ABOUT MOHEGAN SUN: Owned by Mohegan, Mohegan Sun is one of the largest, most spectacular entertainment, gaming, dining and shopping destinations in the United States.  Situated on 185 acres along the Thames River in scenic southeastern Connecticut, Mohegan Sun is home to two unique casinos, 1,600 deluxe hotel rooms, two world-class spas, a golf course, over 70 shops, restaurants and bars as well as three award-winning entertainment venues including a 10,000-seat Arena. Mohegan Sun is within easy access of New York, Boston, Hartford and Providence and located 15 minutes from the museums, antique shops and waterfront of Mystic Country. More information is available by calling 1.888.226.7711 or visiting mohegansun.com. Connect with us on Facebook, follow us on Twitter and Instagram @mohegansun, view us on YouTube and find us on Snapchat at username MoheganSun.
# # #