Cusumano, Booker, Paulino, and Gotti featured on loaded fight card at Winter Brawl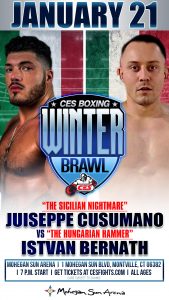 With a new year comes fireworks, and CES Boxing is ready to light up the sky with an epic showcase at one of the world's premier entertainment venues. Winter Brawl, CES Boxing's 2023 season opener, comes to Mohegan Sun Arena at 7:00pm on Saturday, January 21st.
Tickets are $165, $140, $66, and $46, and are on sale now at ticketmaster.com and the Mohegan Sun Box Office.
Winter Brawl features a stacked lineup headlined by hard-hitting heavyweight "The Sicilian Nightmare" Juiseppe Cusumano facing "The Hungarian Hammer" Istvan Bernath in the 10-round main event.
Fresh off his knockout win over Dennis Ventura in August at Mohegan Sun Arena, Cusumano (21-4, 19 KOs) returns to face the 6-foot-4 Bernath (10-1, 8 KOs), a two-time silver medalist at the European Union Amateur Boxing Championships. Bernath was born in Budapest and now fights out of Miami.
The 10-round Cusumano-Bernath showdown is one of 11 fights at Winter Brawl, which also features the long-awaited return of light middleweight Chordale Booker (17-1, 7 KOs) from Stamford in an eight-round showcase against 37-fight veteran Angel Hernandez (17-17-3, 11 KOs), plus a highly anticipated six-round interstate battle between Michael Valentin (7-1-1, 1 KO) of Providence, Rhode Island, and the undefeated Kevin Walsh (6-0, 4 KOs) of Brockton, Massachusetts.
Mixed martial arts standout John Gotti III of Oyster Bay, New York, returns to CES for his second professional boxing match. Gotti is no stranger to the limelight; the highly touted MMA welterweight prospect made his professional debut in the cage at CES 46 in Rhode Island in October 2017 and went on to win his first four bouts by first-round knockout. Gotti will take on Alex Citrowske (1-1-1, 1 KO) of Saint Cloud, Minnesota, in a four-round cruiserweight bout.
Returning from a 13-month layoff, featherweight Irvin Gonzalez (15-3, 11 KOs) from Worcester, Massachusetts, steps back into the ring in an eight-round bout against the dangerous Headley Scott (18-1, 12 KOs) of Jonesboro, Georgia. Super featherweight Alejandro Paulino (11-0, 9 KOs), one of the region's fastest-rising prospects, puts his undefeated record on the line in a six-round bout against Ryizeemmion Ford (8-3, 6 KOs).
In another potential showstopper, undefeated welterweight Josniel Castro (9-0, 7 KOs), a Boca Raton, Florida, native who's fought his entire pro career in New England, faces one of his toughest tests to date in a six-round showdown against Quebec native and Boston resident Mitch Louis Charles (6-3-2, 3 KOs).
Winter Brawl also marks the return of female welterweight Stevie Jane Coleman (3-1, 1 KO), who faces New Jersey's Michaele Nogue (2-2) in a four-round bout, and Worcester super middleweight Kendrick Ball Jr. (19-1-2, 12 KOs) in a six-round bout against Argentinian and 22-fight vet Victor Hugo Exner.
In preliminary action, Brockton heavyweight Chad Leoncello (1-0-1, 1 KO), fresh off his first career victory in November, faces Boston's Wallace Nass Silva (0-4) in a four-round bout and MMA standout Mike Kimbel of Watertown, Connecticut, makes his professional boxing debut against Robert Banks (0-1) of Monroeville, New York, also in a four-round bout.
About CES Boxing
CES Boxing is one of the top promotions in the northeast and one of the few to successfully promote both mixed martial arts and professional boxing. Launched in 1992 by longtime boxing judge Jimmy Burchfield Sr., the promotion is the only in professional boxing to boast two reigning WBC Youth world champions in lightweight Jamaine Ortiz and featherweight Irvin Gonzalez. CES Boxing recently teamed with UFC FIGHT PASS, the world's No. 1 streaming platform for combat sports, to showcase its events to a worldwide audience, and worked as a promotional consultant for the Mike Tyson-Roy Jones Jr. pay-per-view event in November of 2020.
About Mohegan Sun Arena
Mohegan Sun Arena is one of the busiest Arenas in the United States and is ranked consistently among the top venues in the world according to Billboard Magazine, Pollstar and VenuesNow. Mohegan Sun Arena finished 2021 with its first "#1 Indoor Arena" ranking for its capacity in the world according to Pollstar and VenuesNow, ranked among the top 10 venues in the United States regardless of size based on ticket sales, and was named "2021 Innovator of the Year" by Celebrity Access for its ViacomCBS residency.  In recent years, the award-winning venue has also been the "#1 Casino Venue in the World," "#1 Social Media Venue in the World" and a seven-time national award winner for "Casino of the Year – Arena" by the Academy of Country Music. For more information on concerts and other great events, visit MoheganSun.com. For information on this week's schedule, call the Entertainment and Special Events hotline at 1.888.226.7711.
# # #