Cusumano, Booker, Paulino, and Gotti featured on loaded fight card at Winter Brawl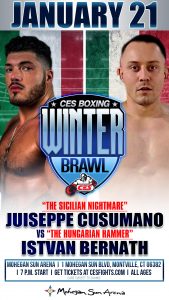 With a new year comes fireworks, and CES Boxing is ready to light up the sky with an epic showcase at one of the world's premier entertainment venues. Winter Brawl, CES Boxing's 2023 season opener, comes to Mohegan Sun Arena at 7:00pm on Saturday, January 21st.
Tickets are $165, $140, $66, and $46, and are on sale now at ticketmaster.com and the Mohegan Sun Box Office.
Winter Brawl features a stacked lineup ...