Tickets on sale Friday, March 17th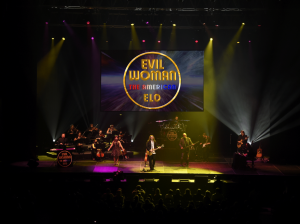 The Electric Light Orchestra Experience featuring Evil Woman, The American ELO comes to Mohegan Sun Arena at 8:00pm on Friday, April 21st at Mohegan Sun Arena.
Tickets are $19.50 and go on sale Friday, March 17th at 10:00am via ticketmaster.com. Tickets will also be available at the Mohegan Sun Box Office beginning Saturday, March 18th, subject to availability.
Audiences are left spellbound by the flawless vocal harmonies and musicianship of EVIL WOMAN- The American ELO. Cellos, violas, and violins co-exist with guitars perfectly, as Classic Rock intersects with Beatlesque-Pop. "Telephone Line," "Mr. Blue Sky," "Don't Bring Me Down," "Turn To Stone," and "Livin' Thing," are among a list of more than 20 instantly recognizable chart-topping hit songs!
The Electric Light Orchestra Experience featuring EVIL WOMAN – The American ELO is comprised of Kevin Fafard (lead vocals, guitars), Nigel Holland (musical director, keyboard, vocals), Rebecca Catalano (vocals), Robert Smith (keyboards, vocals), Jimmy Agrios (bass), Leon E. Alexander Jr. (drums), Ron Halsey (guitars, vocals), Michael Mosgrove (guitar, vocals), Stephen O'Leary (string arrangements), Nancy Crockford (orchestra leader, violinist), Edwin Camacho (cello, keyboards alternate), and Casey Copeland (violin).
About Mohegan Sun Arena
Mohegan Sun Arena finished 2021 with its first "#1 Indoor Arena" ranking for its capacity in the world according to Pollstar and VenuesNow, ranked among the top 10 venues in the U.S. regardless of size based on ticket sales, and was named "2021 Innovator of the Year" by Celebrity Access for its ViacomCBS residency.  In recent years, the "Most Beloved Venue in America" has also been the "#1 Casino Venue in the World," "#1 Social Media Venue in the World" and a seven – time national award – winner for "Arena of the Year."  For more information on concerts and other great events, visit Mohegan Sun. For information on this week's schedule, call the Entertainment and Special Events hotline at 1.888.226.7711.
# # #