Fall 2023 run of live shows stops at Mohegan Sun Arena December 8th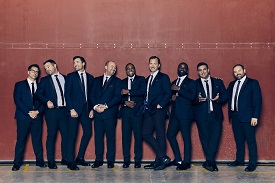 UNCASVILLE, CT (May 9, 2023) – RIAA-certified Gold A Cappella group Straight No Chaser today announced the "Sleighin' It Tour," their fall 2023 run of live shows.  Ranked in the top 20 of Pollstar's "Live 75" for tours at the end of 2022, Straight No Chaser's annual fall tours have become part of family holiday traditions throughout the United States.  Straight No Chaser stops at Mohegan Sun Arena on Friday, December 8th at 8:00pm.
Tickets are $30 and go on sale Friday, May 12th at 10:00am. Tickets will also be available at the Mohegan Sun Box Office beginning Saturday, May 13th, subject to availability.
Today, Straight No Chaser revealed the full track list from Yacht On The Rocks. Produced by Nicholas Niespodziani, singer, guitarist, and spiritual leader of Yacht Rock Revue, the album includes classics like "Escape (The Piña Colada Song)," "Sailing," and "After The Love Has Gone," as well as a guest appearance from David Paich from Toto on "Waves of Toto," a medley of the iconic band's greatest hits.  The album is now available for pre-order, along with several limited-edition bundle offerings, at the group's online store here.
Initially formed at Indiana University, A Cappella group Straight No Chaser emerged at the forefront of the modern-day A Cappella movement and has since sold more than three million albums worldwide, garnered more than a billion streams on Pandora alone, and sold more than 1.5 million concert tickets worldwide.  In the fall of 2022, the group performed in more than 60 cities across the US with multiple sold out shows, including their 26th consecutive sell-out in Indianapolis.
ABOUT MOHEGAN SUN ARENA
Mohegan Sun Arena finished 2021 with its first "#1 Indoor Arena" ranking for its capacity in the world according to Pollstar and VenuesNow, ranked among the top 10 venues in the U.S. regardless of size based on ticket sales, and was named "2021 Innovator of the Year" by Celebrity Access for its ViacomCBS residency.  In recent years, the "Most Beloved Venue in America" has also been the "#1 Casino Venue in the World," "#1 Social Media Venue in the World" and a seven – time national award – winner for "Arena of the Year."  For more information on concerts and other great events, visit Mohegan Sun. For information on this week's schedule, call the Entertainment and Special Events hotline at 1.888.226.7711.
# # #