The Moonshine Jungle World Tour will hit Mohegan Sun Arena Thursday, June 27th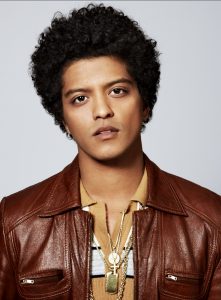 Atlantic recording artist Bruno Mars has unveiled details of his hugely anticipated world tour.  The North American leg of "The Moonshine Jungle World Tour" gets underway on June 22nd at Washington, DC's Verizon Center and then continues through August with a June 27th performance at Mohegan Sun Arena.  The European leg of the tour begins October 2nd in Belfast, Northern Ireland.  A special promo video for "The Moonshine Jungle World Tour" is now viewable here: http://www.youtube.com/watch?v=m59LgGC4IIQ.  For full details and ticket availability, please visit www.brunomars.com.  Special guests on the Mohegan Sun Arena show are newly signed Elektra artists Fitz & The Tantrums.
Tickets are $85.00 & $65.00 and go on sale Friday, March 8th through Ticketmaster at 10:00am.  Ticketmaster customers may log on to ticketmaster.com; call Ticketmaster's national toll free Charge By Phone number 1.800.745.3000; or visit any Ticketmaster outlet.  Tickets will also be available at the Mohegan Sun Box Office starting Saturday, March 9th subject to availability. More details are available at mohegansun.com/entertainment as well.
The announce of "The Moonshine Jungle World Tour" comes just as "When I Was Your Man" – the latest single from Mars' just-released sophomore album, "Unorthodox Jukebox" – has exploded into the top 10 on Billboard's "Hot 100" where it joins the album's blockbuster first single, "Locked Out Of Heaven," which recently spent six consecutive weeks atop the "Hot 100" chart. The immediate success of "When I Was Your Man" – which additionally earned honors as the week's top "Streaming Gainer" and "Airplay Gainer" – marks the GRAMMY®-winner's 10th consecutive single to hit the top 10, continuing his already-established status as the male artist with the longest streak of top 10 hits as a performer since his debut.

Furthermore, the single's chart ascension places Mars in the history books as the first male artist to simultaneously place two titles in the top 10 since his own "Grenade" and "Just The Way You Are" doubled up on the chart in December 2010/January 2011.
The official companion video for "When I Was Your Man" – directed by Mars and his frequent collaborator, Cameron Duddy ("Locked Out Of Heaven," "The Lazy Song") – is also looking like an instant smash.  The clip, which premiered earlier this month, has already drawn close to 5 million individual views at Bruno's official YouTube channel, located at http://youtu.be/ekzHIouo8Q4. "When I Was Your Man" first shot to the top 10 on the iTunes "Top Singles" chart within 48 hours of its official release last year.
Mars recently led a breathtaking performance on the 55th Annual Grammy Awards fronting an all-star tribute to Bob Marley alongside the likes of Sting and Rihanna, which marked the Grammy-winner's third consecutive year to perform on the acclaimed show.
As its title suggests, Unorthodox Jukebox once again sees Mars melding a multitude of musical approaches to create his own distinctive sound.  Executive produced by The Smeezingtons, the hit-making production team comprised of Mars, Philip Lawrence, and Ari Levine, the collection also features contributions from such top producers as Jeff Bhasker (fun., Kanye West, Jay-Z), Mark Ronson (Amy Winehouse, Lil Wayne, Black Lips) and Diplo (M.I.A, Usher).
Unorthodox Jukebox made a stunning SoundScan/Billboard 200 debut upon its release last year, entering the chart at #2 with sales in excess of 192,000 – the singer/songwriter/producer/musician's highest first week sales debut thus far. In
addition, the album exploded to the top spot on the British album charts, making history as the United Kingdom's fastest selling solo album of 2012.  The phenomenal success of Unorthodox Jukebox follows the equivalent popularity of Mars' now classic 2010 debut, Doo-Wops & Hooligans, which proved the U.K.'s third best-selling album of 2011 and also entered the charts at #1.
Bruno Mars is undoubtedly among contemporary pop's most gifted and compelling artists.  And with global sales currently certified at 40x-platinum and over 50 million singles sold worldwide, the 14-time Grammy Award nominee has fully proven himself as a true superstar.
Released in October 2010, Doo-Wops & Hooligans was greeted with both popular success and critical acclaim from all corners of the globe.  "The year's finest Pop debut," raved Rolling Stone.  "Near-flawless…(the album) delivers pleasure without pretension."  Fueled by a remarkable string of hit singles, including the multi-platinum #1 smashes, "Just The Way You Are" and "Grenade," the album instantly confirmed Mars as a major force in modern Pop music.
Mars soon racked up a remarkable record of prestigious international awards and nominations, with victories including a "Best Male Pop Vocal Performance" Grammy Award (for "Just The Way You Are"), an American Music Award for "Pop or Rock Music/Favorite Male Artist," a 2012 Brit Award (for "International Male Solo Artist"), two Teen Choice Awards, a 2012 People's Choice Award (for "Favorite Male Artist"), a Soul Train Music Award, two MTV Europe Music Awards, two MTV Music Awards Japan, a BT Digital Music Award, an ECHO Award, and multiple 2011 Billboard Awards including "Top Male Hot 100 Artist of the Year."
As if that weren't enough, Mars received a truly stunning assortment of 2011 and 2012 honors from ASCAP, including the ASCAP Pop Award for "Song of the Year" (for "Just The Way You Are").  In 2011, he was named to the prestigious Time 100, confirming the superstar as one of the most influential people in the world.
For up-to-the-minute news and information, please visit: www.brunomars.com,  www.mohegansun.com/entertainment, www.facebook.com/thatbrunomars, www.youtube.com/brunomars, and twitter.com/BRUNOMARS.
Mohegan Sun Arena is ranked 3rd in the U.S. and 5th in the world by Billboard Magazine and was the 2008 and 2010 recipient of a Country Music Award for "Casino of The Year."  Venues Today also ranked Mohegan Sun Arena #4 in 2011 and ranked in the top six of "Top Stops of The Decade" in 2012. For more information on concerts and other great events at Mohegan Sun, visit mohegansun.com. For information on this week's schedule, call the Entertainment and Special Events hotline at 1.888.226.7711, ext. 27163.