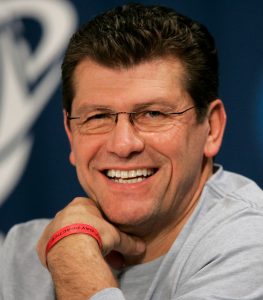 WHAT: Mohegan Sun welcomes back UCONN coach Geno Auriemma for a very special Signings & Sightings event moderated by former Husky and current Connecticut Sun standout, Morgan Tuck, on Thursday, May 25th.
WHEN: Thursday, May 25th
6:00pm – Live Q&A
6:30pm – Signing Event
The Shops at Mohegan Sun
IN DETAIL: Mohegan Sun shoots and scores with an exclusive Signings & Sightings event featuring a live Q&A and signing with Geno Auriemma. Moderated by CT Sun star and former UCONN player Morgan Tuck, the Q&A session will shine the spotlight on UCONN's head coach. A free autograph session with Geno will follow in The Shops concourse on Thursday, May 25th.
Participation is on a first-come, first-served basis. Due to time restrictions, Geno will be signing 1 piece of memorabilia per guest OR the headshot distributed at the event. Signing personalization and personal photos are prohibited.