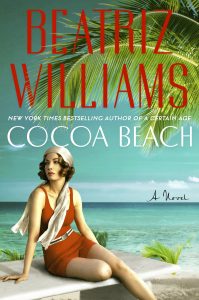 WHAT: The 9th Annual Connecticut Authors Trail wraps up with author Beatriz Williams at Mohegan Sun on Thursday, September 14th during a Winning Authors event.
WHEN: Thursday, September 14th
7:00pm – Live Q&A
8:00pm – Book Signing
The Cabaret Theatre
IN DETAIL: Follow the literary path to Connecticut's best authors during the Connecticut Authors Trail. The state's brightest writers showcase their works and share their stories at local libraries starting July 6th with the final event being held at Mohegan Sun on September 14th featuring Beatriz Williams.
New York Times bestselling author Beatriz Williams headlines a page-turning Winning Authors event as she unveils her latest work, Cocoa Beach, at Mohegan Sun. A lush, historical novel, Cocoa Beach is a story of love, suspense, betrayal and redemption and Williams shares it all with fans on Thursday, September 14th during a live Q&A and autograph session in The Cabaret Theatre.