July 7th, 2015
After The Mtrain Tour was forced to postpone shows, Trainor announces postponed date for Mohegan Sun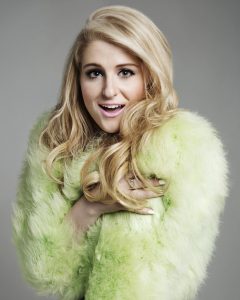 UNCASVILLE, CT (July 7, 2015) –Mohegan Sun Arena will welcome the Grammy Award-nominated, multi-platinum global superstar Meghan Trainor, for a newly rescheduled concert date set for Monday, September 7th at 7:00pm. Special guests will still include Life of Dillon and Who Is Fancy!
Tickets that guests have in hand will be valid for the new date. Guests may receive a refund at their original point of purchase if they are unable to attend the rescheduled date.
Tickets are $45.00, available at Ticketmaster, Live Nation and Mohegan Sun's Box Office, subject to availability. Ticketmaster customers may log on to ticketmaster.com; call Ticketmaster's national toll free Charge By Phone number 1.800.745.3000; or visit any Ticketmaster outlet.
Meghan Trainor was forced to postpone some dates on The Mtrain Tour to rest her vocal chords. An updated statement from the superstar singer is below:
"I have bad news, while I am recovering I need to postpone two more dates, Detroit & Chicago and sadly I have to cancel my appearance at the Common Ground Music Festival.  But there is good news!!  I'm feeling much better, have already rescheduled most dates and will come back around to see you all soon!! Thank you Dr. Kessler for seeing me immediately and being so helpful and thank you guys for all the edits/get well posts you made. You made me feel a lot better about this crappy situation. Love you guys so much!"
Mohegan Sun Arena's rescheduled concert date:
Monday, September 7th at 7:00pm
Following a string of scorching performances, Trainor's show promises to be one of the hottest tickets of the summer. Don't miss it!  For all the latest updates on The Mtrain Tour, visit meghan-trainor.com.
Mehgan Trainor's first tour entitled, That Bass Tour, was hugely successful and critically acclaimed. About the tour, Billboard claimed, "Trainor stretched her set in ways that felt authentic," while The Hollywood Reporter wrote, "The lifelong performer took advantage of the venue's intimacy while also seizing the opportunity to serve a spectacle." The Chicago Tribune said, "After a year that set the 21-year-old on an unexpected Pop star path, Trainor hit the stage in Chicago and showed that she had the verve and talent to justify her rise," The Washington Post added, "Trainor's voice sparkled almost as much as the bejeweled mike she poured it into," and The OC Register claimed, "Her brand of Doo-Wop and Bubble Gum Pop, infused with bits of Funk and Hip-Hop, coupled with a sassy attitude and lyrics about female empowerment, have quickly made her a star."
As soon as Title became available, it vaulted to the top of dozens of charts worldwide. With first-week sales of 237,511 units in total music consumption (albums/singles/streaming), the album ranks as the biggest-selling debut for a female artist's first full-length album in more than five years; and the biggest-selling debut for a solo artist's first full-length album in more than three years. Title has dominated iTunes Overall and Pop album charts in the U.S. at #1 since its release on January 13th, with #1 peaks reported from 67 countries worldwide.
Early critical reaction to Title was unanimously positive, with Rolling Stone magazine hailing Meghan's "sass and self-empowerment," and People proclaiming "she's an It girl with staying power." The New York Times profiled Meghan with references to Amy Winehouse and Adele; while Entertainment Weekly awarded the Title album an A-, declaring "right now, no Pop star is better than this 21-year-old singer, songwriter and producer at playing the sassy best friend."  Billboard summed up, "You can't miss this young artist's skill with melodic and rhythmic hooks…along with her fluid, flexible voice."
"All About That Bass" is a juggernaut in and of itself. Meghan's phenomenal two-time Grammy®-nominated debut single spent eight weeks at #1 on the Billboard Hot 100, and has been certified 6-times RIAA platinum in the U.S. alone. The song has worked its way into Pop culture with numerous cover versions and homages, including NBC's Saturday Night Live and The Tonight Show with Jimmy Fallon (with collective YouTube views of more than 40  million).
Globally, "All About That Bass" has hit #1 in 58 countries, generated more than 10 million downloads, over 275 million streams, and nearly 700 million YouTube views to date. The follow-up single "Lips Are Movin"  has been certified RIAA double platinum, has reached the top five on the Billboard Hot 100, top five at Top 40 radio and has over 180 million video views.
Mohegan Sun Arena is now ranked consistently among the top venues in the world according to Billboard Magazine, Pollstar and Venues Today. It has won "Casino of The Year" at the Country Music Awards in 2008 & 2010 and in 2013, was voted "Arena Of The Year" at the G2E Global Gaming Conference in Las Vegas. Also in 2013, Mohegan Sun won "Casino of The Year" in 2 categories at the Academy of Country Music Awards. Mohegan Sun Arena was also ranked among the top 10 Arena venues in the nation for 2014, regardless of size. For more information on concerts and other great events, visit Mohegan Sun. For information on this week's schedule, call the Entertainment and Special Events hotline at 1.888.226.7711, ext. 27163.